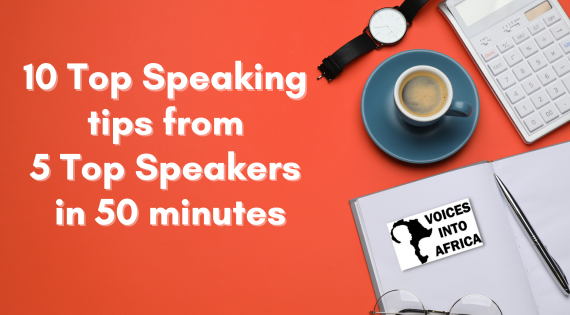 10 Top Speaking tips from 5 Top Speakers in 50 minutes
In a world of fierce competition to be the best and gain the upper hand and be awarded the next speaking contract, there is a new hope for emerging speakers. A way to fast-track your success based on the success of others.
Join us to get 10 cheat codes from 5 of our top African speakers in just 50 minutes that have taken years to learn and refine.
Voices into Africa presents a free to attend webinar where our selection of 5 speakers at the top of their game share their top 2 speaking tips to enhance your speaking career.
This webinar is hosted and sponsored by The Centre Stage Speaking Academy and Red Jackets Speaker's Bureau ongoing education programme. Regular webinars, workshops, or Speaker Bootcamps are run monthly with the aim to develop confidence, courage and collaboration for the speakers of Africa.
Presenter
Strategic Story Engineer | Speaker| Coach | Past President of the Professional Speakers Association of Southern Africa